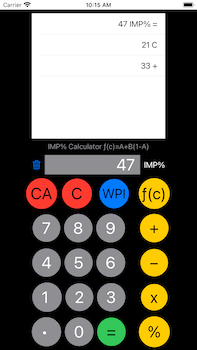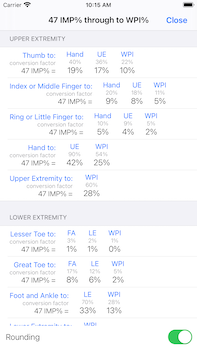 Special Features
&middot Combines multiple impairment values using the formula A+B(1-A) with the f(c) button.
&middot Calculates an impairment value through to whole perosn IMP% for both the upper and lower extremities, with the option to view rounded or decimal percentages.
&middot Stores calculations in a list, like a paper roll, to review previous equations. Press the Trash can button to clear the list.
Regular calculator features
&middot Add, subtract and perform percentage calculations.
&middot WARNING! This app DOES NOT iinclude a DIVIDE function, because it is not used in the AMA Guides calculation methods.
Example calculation
Index finger DIP joint 30degrees = 33 IMP% and MP joint 30degrees = 21 IMP% through to whole person impairment.
Use keys: 3 3 f(c) 2 1 = shows result 47IMP% press WPI key and new screen opens with values for 47IMP% calculated through to whole person % locate Index Finger in the Upper Extremity list and read across for each region, Hand 9%, Upper Extremity 8%, whole person 5% optionally, turn off the round switch to view decimal precentages, Hand 9.4%, UE 8.5%, WPI 5.2% Press the close button to return to the calculator screen.